Frequent shutdowns due to under performing pumps are frustrating and costly, yet many operators in the Oil Sands struggle with such downtime on a regular basis.
Those working at a major Oil Sands operation near Fort McMurray were frustrated by the escalating expenses of frequent unplanned outages, which can soar over $60,000 per hour. Although this area is known for being rough on pumping systems, operators were experiencing wear at a particularly accelerated rate. However, instead of continuing to struggle with the mounting downtime, maintenance, labour, and parts costs, they decided to call in the experts at GIW Industries Inc.
GIW technical advisor Johan de Jager said: "First-stage Hydrotransport pumps are often subject to the most severe wear, and this customer's existing pump struggled to achieve 1,300 hours of run-time before a part needed to be replaced.
"Through discussions with the customer, [we learned] their target was to operate the pump for 4,000 hours before any component needed to be replaced."
A custom solution for a common problem
This may sound like a big request, but de Jager took this idea back to GIW headquarters in Grovetown, GA, to come up with a solution that met the customer's needs.
In this situation, GIW experts needed to replace a competitor's pump with something better suited to the aggressive wear and longer run times the customer requested. This first-stage pump needed to be able to handle a max particle size of 127 to 152mm and prolonged high-pressure loads. Ultimately, the GIW team came up with a custom-designed GIW Minerals TBC-67 High-Pressure Pump.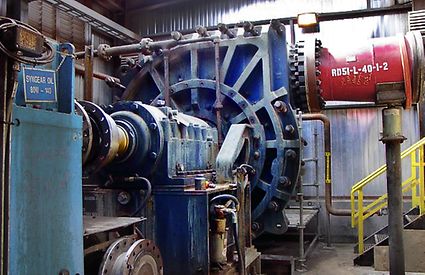 GIW business development manager for the Oil Sands Mollie Timmerman said: "By utilising operating data and on-line wear measurement techniques, we were able to provide a pump solution that exceeded 4,000 hours of operating time.
*This solution includes the use of advanced materials and a custom hydraulic design that is tailored to the customer's operating parameters."
Timmerman is responsible for coordinating efforts at the Grovetown, GA, location and ultimately providing pumps to customers. And Timmerman and her team did more than meet the customer's request, they exceeded expectations. GIW's TBC-67 pump achieved a record-breaking 4,800 hours of run-time between scheduled shutdowns.
"It's a perfect example of GIW's customer-centric focus and solution capabilities to provide longer-running pumps at a reduced total cost of ownership to our customers."
A real and lasting impact on pump operations
Of course, this scenario is exactly what mine operators in the Oil Sands desperately need, and GIW experts are proud to note they have over 30 TBC-67 pumps operating in Oil Sands hydrotransport and tailings today. This is due to the fact that operators are eager for lasting pumping solutions to combat rising labour and maintenance costs as well as greater production demands.
Yet there's an even greater reason why the TBC-67 is garnering so much attention in the Oil Sands, and that's because of the hands-on approach Timmerman, de Jager and the entire GIW team brings.
When you partner with a manufacturer like GIW whose engineers create and stand behind the custom-tailored solutions they offer your specific slurry system, the results can be astounding, in this particular case, a pump that achieves 4,800 hours of run-time.
As de Jager pointed out, it's a trend that's catching on in the Canadian Oil Sands as he and fellow GIW professionals continue to develop long-term relationships with surrounding customers.
"The successful features of this particular pump are being introduced into other applications and customer sites," de Jager said. "It's a success story with valuable lessons that have a real impact on pump operations."